Use Menu to Navigate:

I LOVE my AquaSkinz!!
Looking to post an article or review?
Talk about it on the StriperTalk Forums!!!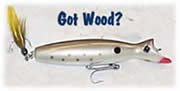 Got Wood? Another project for around the house where you can build your own custom wooden lures, pour you own soft-baits or jigs...
Check out the Stripertalk Calendar for your Tourney and Event Information!!
Support your local fishing clubs and tackle shops!
Copyright © Striped-Bass.Com
1999-2006
please forward commentsto webmaster
Striped Bass Fishing
Copyright © Striped-Bass.Com
1999-2006