Written by John Redmond
Thursday, 08 January 2015 08:35
Last Updated on Sunday, 11 January 2015 09:46
Merry Christmas & Happy Holidays!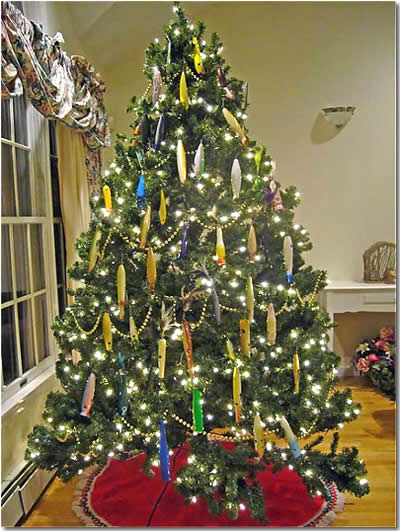 Surfcasters' Christmas
Twas a week before Christmas when all through the night,
Not a damn thing was swimming, I had not a bite
The plugs were all cast tight to structure with care,
In hopes that one last monster cow would be there;
Those with a stitch of sanity were home snug in bed,
Only crazy die-hard surfcasters were tired, cold and wet;
And I in my neoprenes and knit woolen cap,
Would've been better off with an eight-hour nap;
When out on the water was the sound of a splatter,
I leaned my rod back, and I swung like a batter;
Away flew my plug toward that distant splash,
My bail shut, my line broke, and it cost me some cash;
I tied on a new plug as along came a breeze,
And my shivering fingers continued to freeze;
I slipped on a rock and fell in with a splat,
Soaking wet from my Korkers right up to my hat;
Got a hook thru' my waders, which sprung a nice leak,
And the end of the season was looking quite bleak;
I gave up, drove back home, and I crawled into bed,
My shivering woke up my wife, who sleeps like the dead;
She said "you're obsessed" and then "it serves you right",
"Thank God it's the end of the season... good night".
She thinks the next few months bring reprieve from my fishing,
But I know and you know that's just foolish wishing;
There are plugs to repaint and hooks to replace,
Tackle in the basement, strewn all over the place;
Reels to grease, rods to wrap, plugs to turn, line to wind,
Leaky waders to patch, and some dull hooks to grind;
I'll be out buying tackle, and of course tying flies,
And on surfcasting websites reading good advice and lies;
But... for the next couple nights I'll just play the game,
Do the Holiday thing, and convince her I'm sane;
Do some minimal housework and rack up brownie points,
While I recover from the fall run, healing muscles and joints;
Work on saving my marriage, prevent a divorce,
Or a fishing tackle tag sale...
Which would be even worse...
While anxiously waiting for that first warm spring breeze,
And the water temp to reach that magic 45 degrees;
And the stripers again have control of the night,
While we search and we cast, and we wait for the bite;
But for now I wish you, 'cause the timing is right,
Merry Christmas to all, and to all a good night.
- George R. Baldwin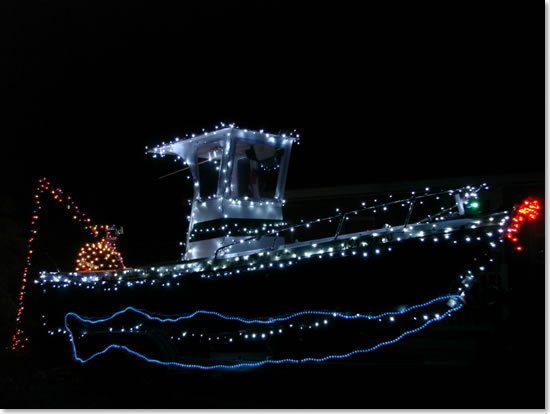 "The Night Before Christmas" Dan Pizzonia 12/11

Twas the nite before Christmas and all through the house,
the only creature stirring was getting ready to go out.

The surf bag was loaded, lures chosen with care,
In hopes of catching the big one for holiday dinner fare.

The plugs were all nestled in their plastic beds,
While visions of a blitz danced thru his head.

And with mama sleeping soundly, he put on his cap,
and crept outside to begin a long winter trek.

He reached the water not a moment to soon,
and saw a large splash under the moon,

He sprang from his truck, rod & reel in hand,
and quickly cast out to the spot from land.

The moon on the water gave an eerie glow,
giving the luster of mid day to the fish swimming below

He slowly worked the lure toward land,
and brought up the big one with one scoop of his hand

He trembled and marveled at the giant below,
laying large and still in the new fallen snow,

The blitz continued on thru the night
all told, a dozen fish gave him a fight.

He whistled and shouted and called it insane,
"It's December, it's cold, and it's hard to explain"

He began his journey back to the truck,
Dragging the big catch, smiling at his luck

So up to the house, he began his drive
Whistling and singing over the eight miles

And, then, in a twinkling he heard in the bed
the slapping of a fish tail, in unison it seem led,

As he drew his head to turn around,
the fish jumped up and gave him a frown

He laughed at the site, still excited with glee
And drove even faster, the wheels in harmony

He pulled into his drive and bounded the stairs,
threw open the door to his waiting family's stare,

His fingers felt frozen, his feet very cold, but he told his story, of the blitz and big catch in all its glory.

His eyes – how they twinkled!!  His dimples how merry!  His cheeks were like roses, his nose like a cherry!!
He held up the giant fish that was so rare,
Declaring this would be the holiday
fare!

He placed the fish down and went back to his truck,
stopping for a moment to reflect on his luck.

He brought in his knife, dressing the fish,
keeping a large fillet for the holiday dish,

We'll give the rest to the poor, a great feast it will be,
Food for all, right from the sea!!

A wink of his eye and a twist of his head,
the fish was covered with lemon and crumbled bread,

He tucked the children back to bed
while visions of the night still danced in his head

He smiled to himself, what a night to remember,
to catch these fish in December!!

As he climbed into bed, feeling
exhausted & cold, he felt like a king, with all his gold

Remembering what happened that early night,He wished all the CT Surfcasters a "Happy Christmas & Good Night"
<<

Start

<

Prev

1

2 3 4 5 6 7 8 9 Next > End >>


Page 1 of 9
Support S-B!
Thank you for your donation!